Ford Model T Engine: Everything You Need to Know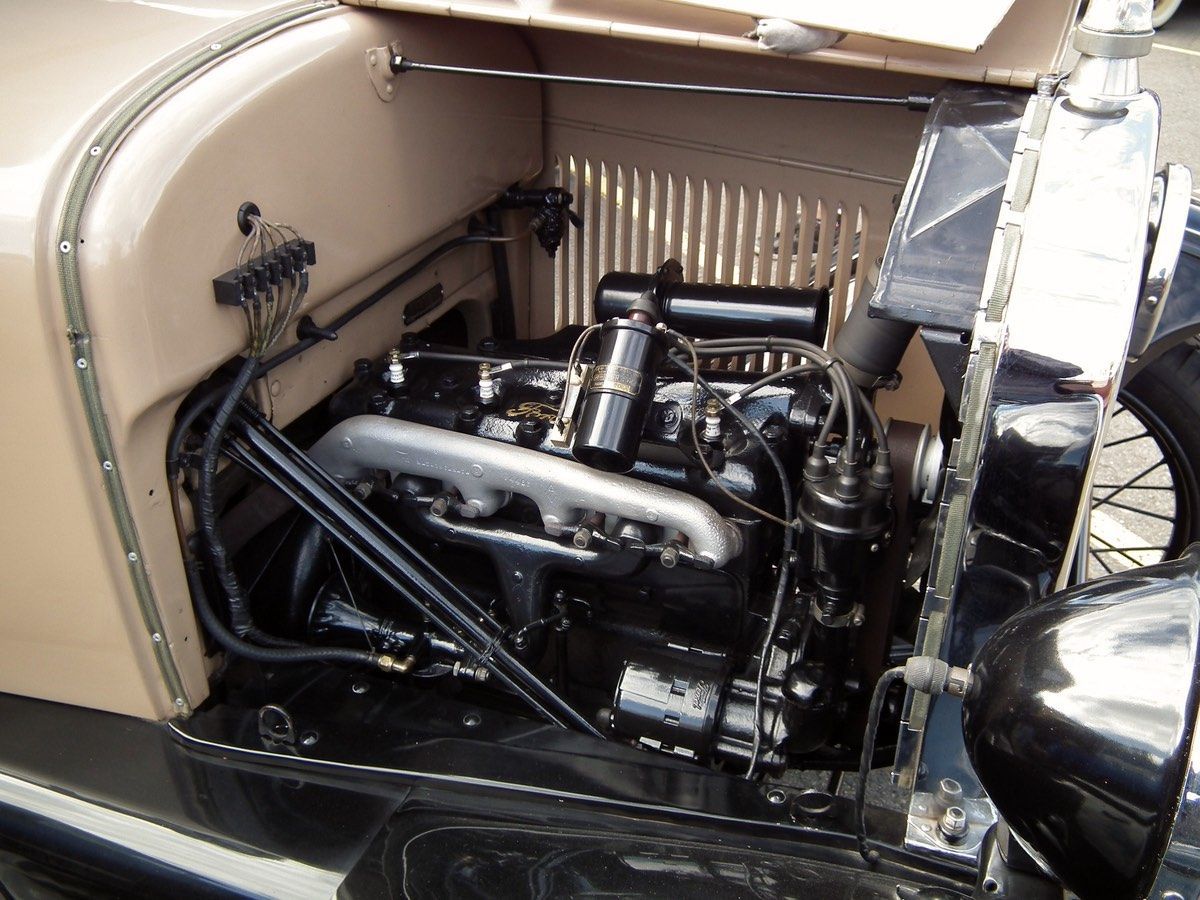 The Ford Model T engine was a 177 cu in (2.9 L) side-valve, reverse-flow cylinder head inline 4-cylinder engine. It produced 20 hp (14.9 kW) and offered a top speed of 45 mph (72 km/h).
It was produced for over 33 years and became one of the most successfully mass-produced engines in the world. It was designed to be affordable, easy to operate and repair, and above all, to be reliable. Let's take a look at the history and the specifications.
Where and how it all began
Henry Ford developed the Ford Model T engine over several years, with the initial successful testing of the motor on Christmas eve in 1893. The engine was only functional for 30 seconds, but that was deemed a huge success at the time and enough to pursue further testing and development.
Official production of the engine did not commence until January 1907, when Ford and a small team started to manufacture the engine in a small Detroit factory located on Piquette Avenue.
The engine was officially released and shipped to its first customer on October 1, 1908. The Ford Model T automobile was a self-starting vehicle featuring a 177 cubic inch (2.9 L) side-valve four-cylinder engine that produced 20 hp (14.9 kW) and offered a top speed of 45 mph (72 km/h).
Ford's engine was the first to have its engine block and the crankcase cast as a single unit and was the first engine designed to have a removable cylinder head for easy access.
The vehicle was marketed by Ford to be affordable, simple to operate, and durable, and sold for $850, which was considered affordable but markedly higher than the average American income could afford.
The vehicle became a huge success and by the early 1920s, more than half of the registered vehicles in the world were made by Ford. In 1926, Ford ceased production of the Model T Ford, having sold more than 15 million vehicles.
Technical specifications of the Ford Model T engine
The engine's bore was 95.25 mm and its stroke was 101.6 mm. The Model T engine was intended to be a gasoline engine and had a fuel consumption of around 13–21 mpg (miles per gallon)/ 18–11 L/100 km. The engine had one carburetor, a side-draft, single-venturi unit with choke and throttle valves controlled manually.
Originally, the engine's carburetor had no fuel pump and relied on gravity feeding of the fuel supply. This caused issues when the vehicle was low on fuel and particularly when using the vehicle on an accent (even mild hills), and the later Model T engines were fitted with an after-market fuel pump.
A market leader ahead of its time
The Ford Model T was a leader in engine design, claiming a number of firsts. At the time of production, it was the first to have a crankcase and engine block designed and manufactured as one single unit.
The engine was made using vanadium alloy steel, which was also a first at the time. At the time of manufacture, Vanadium steel offered superior strength whilst still being lightweight compared to engine models of a comparable time frame.
The first Ford Model T automobiles came with a toolkit and attention to design details implied that the vehicle could be easily repaired. The Model T Engine was the first to use a removable cylinder head providing easy access and repairs.
Manufacturing of the Ford Model T engine
The T engine was produced continuously from 1908, until 1941, amounting to exactly 12,000 days of production, making it one of the longest engines produced. The engine was used in passenger vehicles from 1908 until 1927 and was used until 1941 for consumer, industrial, military, and marine vehicles.
The Model T engine was one of the first mass-produced components used and Ford Motor Company quickly paved the way for the mass-production techniques that revolutionized the automotive industry forever.
In 1913, a 60-acre factory was built in Highland Park to churn out Model Ts and the assembly line could complete and assembly of a Model T Ford in just six hours.
The Model T engine, chassis, and other components were designed and manufactured on the Ford Motor Company's moving assembly line at Ford's revolutionary Highland Park Plant. Throughout production, the engine design and specifications remained almost entirely unchanged.
Ford's monoblock engine design was not common during the early times of construction around 1908 but quickly proved itself successful for mass production. The cylinder head was made of cast iron and was designed to be easily removable, allowing for easy access to replace and repair valves and cylinders.
Ford's engine design was so robust and designed for simplicity, it was capable to operate the engine on multiple types of fuel, such as gasoline, kerosene, or ethanol. This "multifuel" capability was designed to appeal to farmers who at the time were allowed to create their own fuel with excess corn.
Marketing and sales of the Model T Ford and engine
Ford engaged in several high-profile publicity stunts to prove the Model T engine's capabilities. The Model T was initially tested on public roads by Henry Ford himself who drove the vehicle on a hunting trip from Detroit to Wisconsin and northern Michigan.
The vehicle was also seen performing various tasks to wowed audiences including climbing the stairs of the Tennessee State Capitol (in Nashville Tennesee) and climbing to the summit (14,115 feet) of Pikes Peak.
It wasn't only in America that Ford engaged in publicity stunts to attract customers. In 1911, a challenge was set by a Scottish Ford car dealer to his son to drive a Model T to the summit of Ben Nevis, the highest mountain of the British Isles. The feat was completed over five days seeing the vehicle drive over rocks and challenging terrain, and even snow.
The publicity stunt was a huge success and led to over 14,000 Model T Ford vehicles being sold. It also marked the last time Ford needed a publicity stunt to sell his cars in Britain.
Summary
Ford revolutionized the automobile industry with the engine he and his team designed and manufactured for over 33 years. The Model T engine was used in over 15 million vehicles worldwide and was well known for being of sturdy and robust design that remained reliable making it go down in history forevermore.